The History of the Cadbury Flake
Introduction
In 1824, John Cadbury opened a shop in Birmingham selling cocoa and drinking chocolate. He melted the cocoa beans into liquid chocolate in a copper pan over an open fire, then poured it into moulds so it could set. The process was messy and time-consuming, but Cadbury had invented something that would change the world: chocolate! By 1831, Cadbury's company had become known as 'Cadbury Brothers'.
The Flake was first marketed in 1920
The Cadbury Flake is one of the most popular chocolate bars in the UK, and it was first produced by accident. In 1920, a machine broke down at a Cadbury's factory in Bournville, England and chocolate crumbs were left to cool in an oven. When workers tried to clean up their mess, they found that the chocolate had hardened into thin sheets that could be broken off into flakes. They decided to market this new treat as "Cadbury's Flake," which became available nationwide by 1923.
According to Cadbury, there are about 10.5 million Flakes sold every year in the UK
According to Cadbury, there are about 50 million Flakes sold every year in the UK. The United Kingdom is still the largest market for Flake, but it has also become popular in other countries around the world. Cadbury estimates that 4 million people eat a Flake every month and about 1 out of every 3 people have eaten a Flake at least once in their lifetime.
A Flake is made up of layers of chocolate which have been flaked down to 52 microns - just thicker than a human hair.
A Flake is made up of layers of chocolate which have been flaked down to 52 microns – just thicker than a human hair. The way this process works is that the chocolate goes on an electrostatic conveyor belt, and then it's fired off at high speed into a vacuum chamber where it hits another conveyor belt moving at the same speed in the opposite direction. This causes the flakes to break away from each other, leaving them attached by just a thin strip of melted chocolate.
Fun fact
If you've ever bought a Flake (or any Cadbury item in Canada and the USA) and noticed that the Cadbury chocolate tastes ghastly, you're not imagining it – it's actually a completely different product.
The UK product is made from milk, sugar, cocoa mass, cocoa butter, vegetable fat, and emulsifiers, while North American Cadbury chocolate also includes lactose, soy lecithin, natural and artificial flavourings. Plus, it lists sugar as the number one ingredient.
Conclusion
The Cadbury Flake is a classic British treat, so it's no surprise it has been around for almost 100 years! The company says that there are about 10.5 million Flakes sold every year in the UK alone, which shows that people really do love these sweets. We think they're delicious too - and they're always available at The Great British Shop!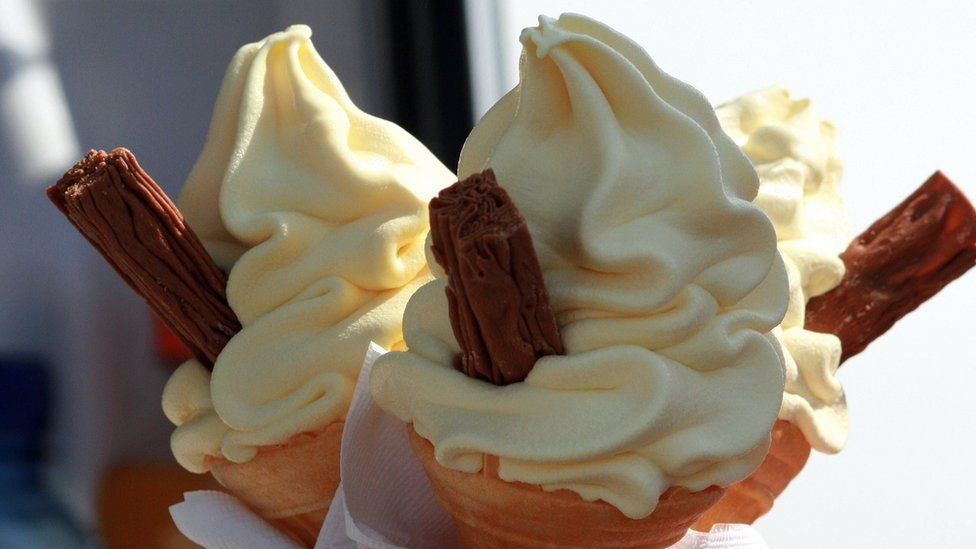 -------------------------------------------
You can order directly from our online shop, or come to our physical British store in Halifax, Nova Scotia located at 201 Chain Lake Drive!
1-800-398-9979
Our phones are not currently answered live and are redirected to a voicemail. We will get back to you as soon as we can!

Most questions are covered in our FAQ's!
The Great British Shop is one of Canada's leading and trusted British food distributors.
We ship across Canada, including Vancouver, Victoria, Surrey, Burnaby, Winnipeg, Edmonton, Calgary, Regina, Saskatoon, Toronto, Mississauga, Brampton, Hamilton, London, Markham, Windsor, Kitchener, Waterloo, Cambridge, Oakville, Burlington, Sarnia, Ottawa, Montreal, Quebec City, Laval, Gatineau, Moncton, Fredericton, Saint John, Charlottetown, Halifax, Dartmouth, Sydney, St John's, Corner Brook and all points in-between!
More on our physical British store!
We are home to the largest and most authentic range of British baked goods this side of the Atlantic! We are committed to using fresh, locally sourced ingredients where possible and pride ourselves in the quality we provide, both in product and service. Our imported grocery is one of the largest in Canada, from your favourite British chocolate, crisps, Marks and Spencer and Battenberg cake to imported frozen goods including Warburtons bread, crumpets, Quorn, Linda McCartney and so much more. We carry a wide range of British style meats, including black pudding, British bangers, British bacon, Haggis and, Chipolatas and square sausage!
Established in 2019.
Our Halifax location is our first in Atlantic Canada, our family business stems from our chain of British Pride Bakery locations in Ontario. We opted to continue our growth in the Maritimes under the name in which our online shop operates to enhance our reputation online as well as add our own mark on the brick & mortar stage. We are Canada's largest chain of family owned British specialty stores and we've built our reputation on quality, service and authenticity.
Being an expat in Canada, I understand the need for British foods for fellow expats, generational Brits and British enthusiasts. The nostalgia and emotion tied to British products can all but eliminate homesickness, a simple sausage roll for lunch can hit the spot like nothing else and comfort foods people grew up with or come to love through parents, grandparents or trips to the UK are brilliant to have so easily accessible locally or delivered to your doorstep anywhere in Canada. Being able to bring authentic British style baked goods to the market is a great feeling and it's fantastic having the entire shop at my disposal when any homesickness might sneak up on me! Nothing a Cornish pasty and a shandy won't fix!
FAMOUS BRITISH BRANDS WE CARRY!